Concealed Drawer Slide
24.P201Q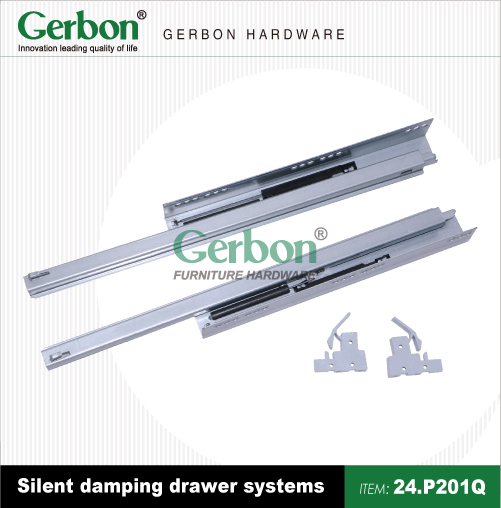 Soft drawer runners
Product details:
1. Item No.: 24.P201Q
2. Concealed, 3/4 partial extension, soft close drawer slide with clip
3. Length: 250mm, 300mm, 350mm, 400mm, 450mm, 500mm,550mm,600mm
4.Carrying capacity: 25-35kgs
5. Material: steel
6. Color: zinc plated
Advantages:
1.Unsurpassed running action using the concealed runner principle–for the lifetime of the furniture
2.Includes integrated soft mechanism for silent and effortless closing action
3.3/4 partial extension
4.Tool free assembly and disassembly
5.Excellent durability
About Gerbon:
Gerbon is...
...a highly-regarded partner in furniture, cabinet, bathroom and property development. Gerbon's comprehensive hardware technology supply solutions include: hydraulic hinge, standard hinge, soft close slide, standard slide, handle, caster, lock, and other furniture fittings.